How Effective or Ineffective are Tactical Flashlights on Bears?
Thankfully, it has never happened to me that I've 'turned a corner' in a wood, so to speak, and suddenly found myself face to face with a bear.
I imagine that doing so would be somewhat problematic, especially if the bear was irascible and decided to contest the space.
Seeing how bears are much faster, far stronger, and better armed than humans, the outcome is predictable: an outright win for the bear and a measure of discomfort for the human on a level that I might correctly describe as 'holiday-mood destroying.'
However, casting a critical eye on the comparative attributes of each species, homo sapiens sapiens and Ursidae, speed, strength, and armaments, it stands out immediately that humans can tilt the balance in their favor by arming themselves to the teeth with modern weapons, at which time, the bear literally becomes the hunted, not the hunter.
So, armed with a flashlight, let's venture deep into the woods and do some bear hunting.
How Effective or Ineffective are Tactical Flashlights on Bears?
A suitably powered tactical flashlight can momentarily disorientate a bear, but it can't disable it. Bears have tremendous smell and hearing, so though a flashlight can trouble its eyesight, smell and hearing will enable them to accurately track the person's location.
The Power of Tactical Flashlights
As asked above, 'How powerful are tactical flashlights?'
I suggested that anything over 200 lumens can be considered a tactical flashlight. Honestly, though, something like a 300, 400, even 500-lumen flashlight is sort of weedy.
Tactical flashlights come into their own when they hit the 1000-lumen mark, making them a significant fuss and bother to an attacker.
The $90 4000-lumen Klarus G15 4000 Lumens Ultra Bright Rechargeable EDC Flashlight is even better, although if you can spare the dosh, or you're some underworld denizen who is in constant fear of his life, you can't go wrong with the $600+ Imalent MS18 Brightest Flashlight which comes in with a handy 100,000 lumens in tow.
Not surprisingly, the Imalent MS18 is touted as being the most powerful flashlight in the world, and I think we can all agree that there are better things we can do with our time than tangle with someone wielding one of them, thanks anyway.
Bear Behavior in the Presence of Strong Lights
Bears are amazing predators. Bears are amazingly perspicacious for an animal species whose family tree doesn't contain the protonym 'sapiens' (meaning intelligent).
Rather than fear light, as all well-informed non-dead folks do, bears associate light – especially unnaturally powerful ones – as camp lights, burners, and other sources generated by humans – meaning a tasty and easy meal.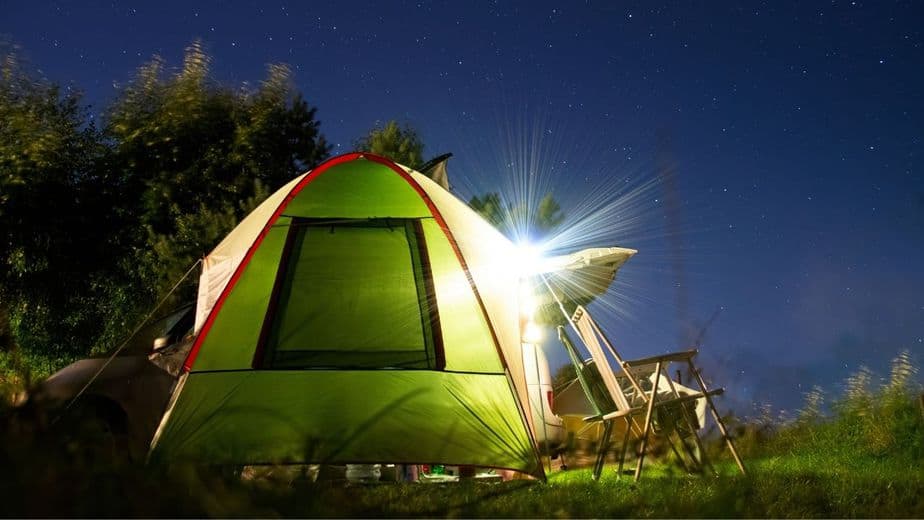 A hungry bear is therefore likely to associate the beam from a flashlight as a homing beacon to 'food, glorious food,' and if you happen to be the poor sap at the other end of that beam, well… not so peachy, right?
Don't Tease the Bear
Folklore has it that in the early years of the European incursion into the new world, wiser, older trappers would advise parvenus, 'On no account shoot at bears; it only makes them angry.'
This remarkable and terrifying advice continues to hold true to this very day when applied to using tactical flashlights as a weapon.
'Don't point a tactical flashlight at a bear unless you've got a backup plan involving either being somewhere else shortly afterward or, with malice-aforethought, the violent, (and for the bear fatal) use a .45-70 Government fully loaded rifle.'
What a Tactical Flashlight is
Flashlights become 'tactical' when they are powerful enough to disorient or disable an attacker, with disabling an attacker for several minutes being the preferred option.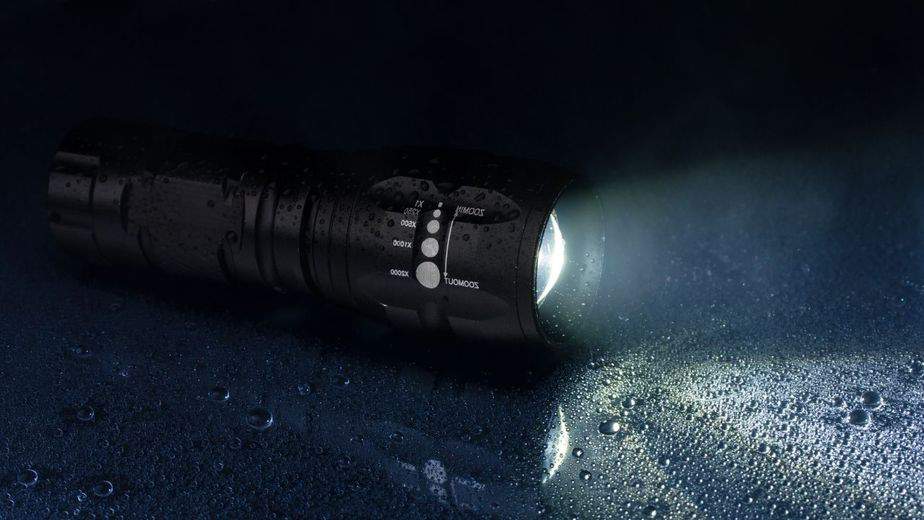 To achieve a level of discomfort so acute that an attacker must reprioritize her activities and go from 'destroy this person' to 'save my eyesight,' the flashlight has to be extremely powerful.
The power of a flashlight is measured in lumens – we'll get that shortly – but the thing to keep in mind is that 50 lumens are perfectly sufficient for an ordinary head-mounted reading light.
Campers will usually buy flashlights that produce between 100 and 200 lumens, with the 200 variety being seen as occupying the top end of the range for non-weaponized use.
There is no official definition of the power of a flashlight to make it count as a tactical weapon.
However, if we accept that the most powerful everyday camping flashlight is 200 lumens, then logically, anything more potent than that has to count as an offensive weapon, at least to humans.
What a Lumen is
Essentially, lumens are an SI unit evaluation of the quantity of light produced by a light source.
A softly lit room such as might benefit the lascivious plans of a teenager intent on, er, entertaining his young lady friend would be lit with bulbs producing about 450 lumens.
Less libidinous bedrooms would be lit with a couple of bulbs in the 800 lumens range.
A home office/study would employ a bulb or two in the 1100 lumens range.
Offices, corridors, hallways, hospitals, etc., would use bulbs in the 1600 lumens range.
Frequently Asked Questions about How Effective or Ineffective are Tactical Flashlights on Bears
For how long can a tactical flashlight disorient or disable a bear?
A tactical flashlight cannot disable a bear, period. Therefore, the answer to that part of the question is, 'zero seconds.' As to how long a tactical flashlight can disorient a bear, the answer is 'nobody knows.'
What about the 'strobe' effect? Will that help deter bears?
Bears act as if they care about strobe lighting by totally ignoring it because they don't give a fig about strobe lighting. All those Internet wiseacres telling you to set your tactical flashlight to 'strobe' mode are only lining you up as an ingredient in a bear's next tactical flashlight sandwich.
Afterword: How Effective or Ineffective are Tactical Flashlights on Bears
Tactical flashlights are not an effective deterrent to bears.
The best way to deal with bears is either to be armed to the teeth with one-or-more super-reliable firearms of sufficient firepower to stop a charging bear, or else live in a civilized part of the world where the local wildlife can't eat you even if it wanted to.