Do Canoes Tip Over Easily? Canoeing is a popular outdoor activity enjoyed by children and adults alike.
Unlike kayaks, canoes are typically larger and can accommodate many people. They are also designed to have more stability in water and do not get tipped over easily unless other factors are at play.
Although it is not difficult to learn how to canoe, canoeists generally worry about the potential risk of it getting capsized.
Below, we will outline the common causes of a canoe tipping over that should be generally avoided.
Do Canoes Tip Over Easily?
Though inherently stable by design, canoes can tip over due to uneven weight distribution while standing or leaning forward, unsuitable weather, turbulent water conditions, and collisions. Canoeists must be careful to balance correctly and maintain a low center of gravity while paddling.
4 Primary Factors that Cause Canoes to Tip Over
Let's discuss the key factors contributing to canoes tipping over in the water.
Understanding these factors will allow you to avoid them and prevent your canoes from getting capsized.
1. Collisions
Collisions while canoeing can have serious consequences.
Any objects in the water, including rocks, plants, wood, and trees, can collide with the canoe and cause grave damage.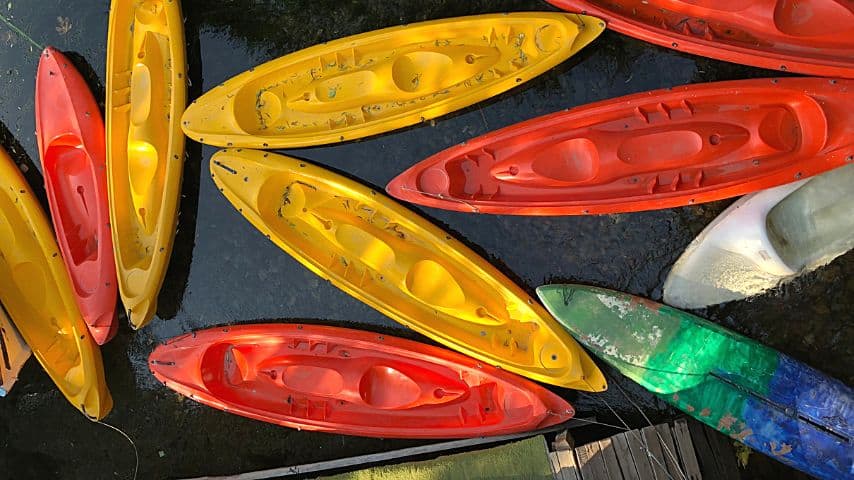 A damaged canoe will instantly capsize.
Even if the canoe does not get physically damaged by collision, a sudden crash will cause a shift in weight to one side, and the center of gravity will get offset.
Hence, a preventative measure would be to canoe carefully and look out for any obstacles in the water.
It is best to check the river's rapid classification before going canoeing in the river. Try to avoid canoeing in rivers with higher river rapid class.
2. Unsuitable Weather Conditions
Weather conditions, including strong winds and rain, can make it difficult to steer the canoe in the water.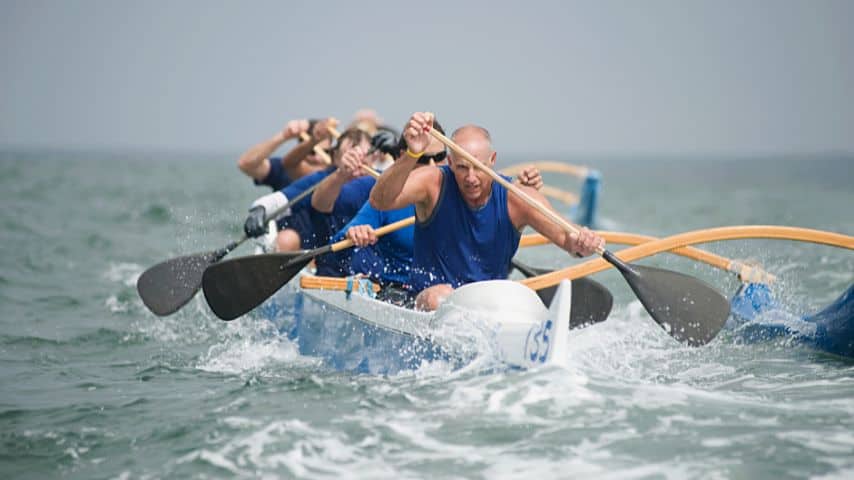 It is ideal for canoeing in moderately warm weather when the water temperature is ideally around 50 degrees Fahrenheit (10 degrees Celsius).
It is typically advised to check the weather forecast before making any canoeing plans. Be specifically mindful of the wind speed.
3. Turbulent Water Conditions
If you are canoeing in a river, the water's flow rate will determine the risk of your canoe tipping over.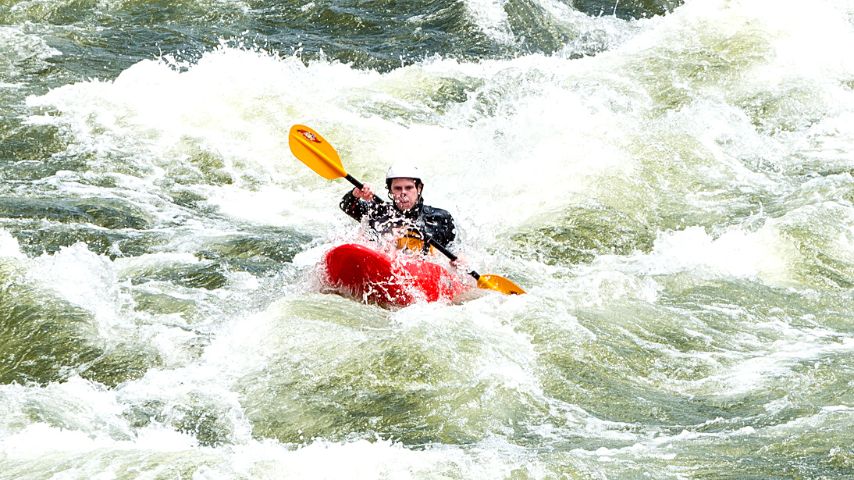 If the flow rate is too rapid, there is a high possibility that your canoe will remain constantly unstable and eventually overturn.
4. Weight Distribution is Skewed
Your weight distribution can quickly go off-center if you stand or lean over in your canoe. Standing raises the center of gravity, which can easily cause the canoe to tip over.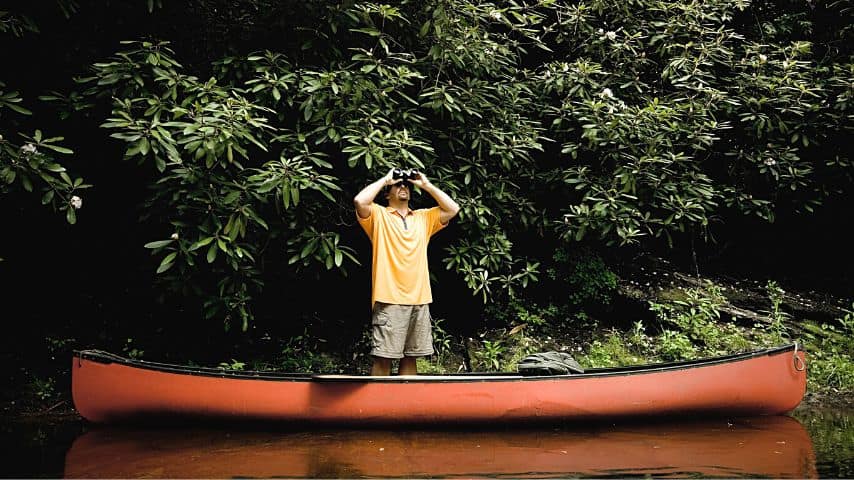 Hence, it is crucial to maintain a low center of gravity by kneeling or sitting low while paddling.
In addition, as the canoe moves in line with the river's flow rate, a person with a raised center of gravity will be more affected by the canoe's movement.
Hence, it is better to sit tight in place or kneel to keep your center of gravity low.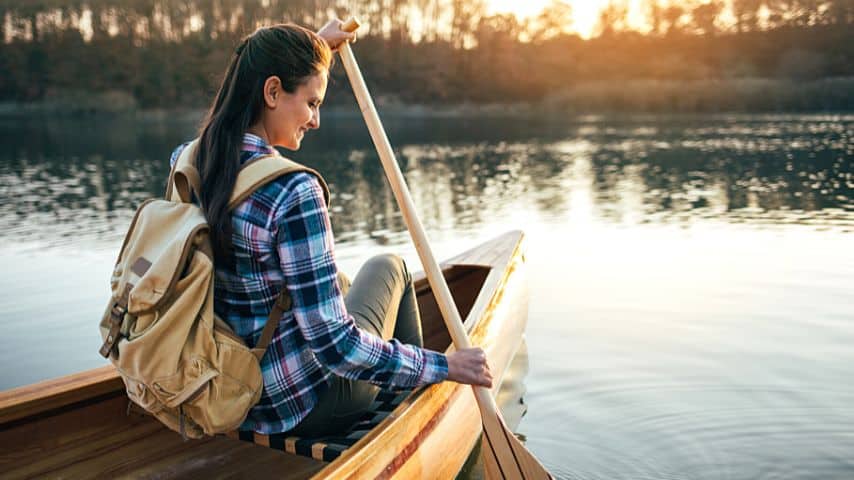 Kneeling lowers your center of gravity and causes body weight to be distributed evenly.
Stay in your seat at all times. If you bring any additional food supplies or gear, then make a note to arrange it carefully.
The weight of the additional supplies should be evenly distributed.
If you pack too many supplies on one end of the canoe, it will dip more in water than the other end.
Any slight movements of the passengers to the tipped side will cause the canoe to overturn.
Do Canoes Get Overturned More Easily than Kayaks
On flat water, canoes are typically harder to overturn than kayaks.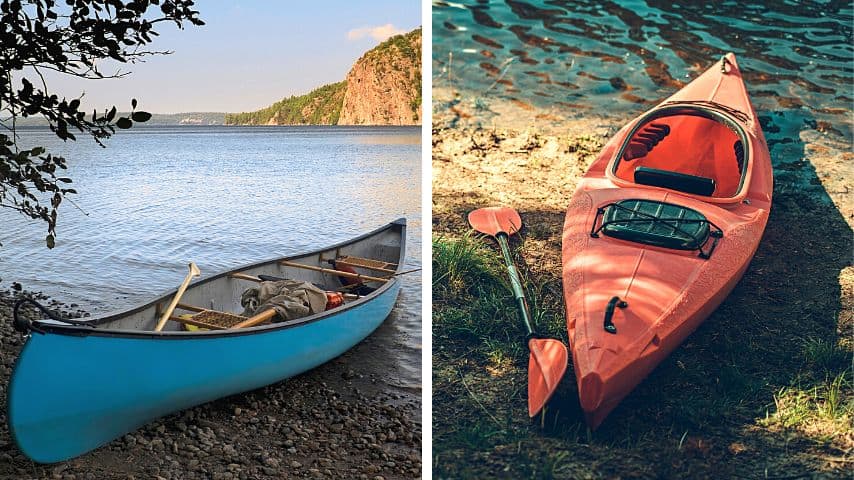 It is mainly because canoes have wider displacement hulls which offer more stability and require a large force to capsize the vessel.
In comparison, while kayaks can get more easily tipped over, it is easy to upturn them. It is due to their lean-shaped exterior, which can be conveniently maneuvered.
How to Correctly Balance your Canoe
Before heading out into the water, ensure you have evenly distributed the weight of supplies in your canoe.
Position yourself on the canoe's midline so that your center of gravity is low and aligned with the kayak's.
For unprecedented situations where your canoe begins to lose balance, you must be aware of techniques to recover its stability before it tips over.
There are two primary techniques to tackle such a situation.
The low brace method involves using a quick stroke to stabilize the canoe. You will need to maintain a firm grip on the paddles and, holding them at a low angle, paddle swiftly ahead.
The high brace method requires more power. It is suited for situations when the canoe tilts to one side and is on the verge of tipping over.
You will have to instantly lean on the opposite side and channel all your strength into paddling ahead and recovering balance.
Moreover, be mindful when stepping in or out of the canoe that your foot rests at the midline of the canoe. Also, grab the gunwales for extra support.
Constant practice will allow you to master these techniques.
Frequently Asked Questions about Canoes Tipping Over Easily
Is a canoe easy to flip?
Canoes are built to be relatively stable and are typically challenging to flip. It makes them perfect vessels for flatwater paddling, fishing, birding, and capturing natural landscape photographs.
Is canoeing harder than kayaking?
People may generally find canoeing more difficult than kayaking since canoes are bigger and can be challenging to control. But, you can learn to canoe easily with proper training and practice. In poor weather conditions, it's more challenging to stay afloat on a kayak as strong winds and waves easily upend it.
What's the best position to assume when riding in a canoe?
For a person canoeing alone, it is best to sit or kneel against the bow seat with their head facing the stern. Doing so will position you at the canoe's midline, from where you can paddle the canoe smoothly.