For many people, kayaking may seem like a fun, non-serious activity with no real benefit.
It is probably because inflatable and foldable kayaks do not emanate a serious vibe.
However, kayakers who consistently go kayaking are undoubtedly aware of the numerous benefits of kayaking.
In addition to building stamina and fitness, kayaking actively causes you to burn calories.
In my opinion, it is undoubtedly one of the best ways of losing weight as you get to enjoy yourself outdoors.
In this guide, you will learn about all the muscles that get worked during kayaking and how kayaking benefits your physical health.
Kayaking – What Muscles are worked?
Kayaking involves the use of multiple muscles. These include the back muscles, mainly Trapezius and Latissimus Dorsi muscles, shoulder muscles, arm and forearm muscles, and finally, abdominal and leg muscles. These muscles work synergistically as you paddle and undergo hypertrophy over time as you continue kayaking for several weeks and months. Furthermore, since kayaking enables the use of multiple muscles, it is considered a great physical activity that maintains fitness and prevents the incidence of cardiovascular diseases.
Is Kayaking a Good Physical Activity?
Kayaking is an activity that can be treated as both leisure and intense physical activity. It all boils down to the amount of intensity to put in.
If you take kayaking seriously and consistently paddle with full intensity over a long period, you will see significant changes in your body tone.
Your muscles will stiffen, and you will lose excess body fat. Since kayaking engages multiple body muscles, it is considered a full-body workout.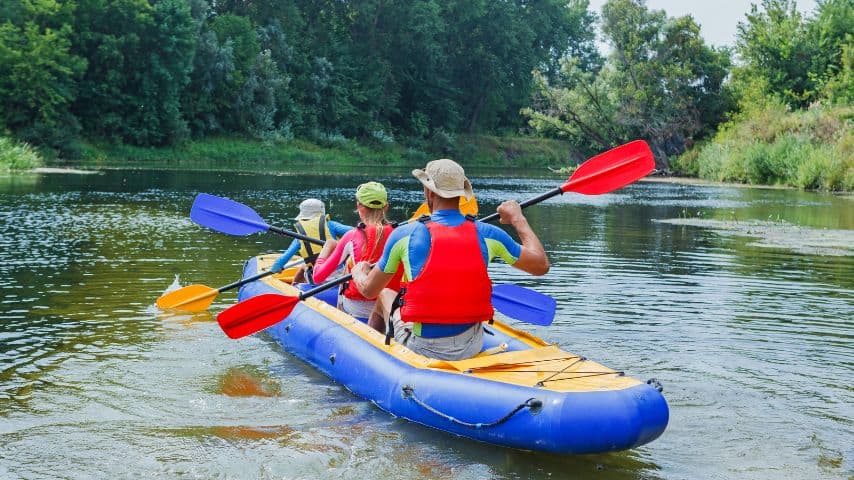 Muscles Worked in Kayaking
While kayaking, you engage multiple muscles, and hence kayaking serves as a great workout activity. Below, we will discuss all the muscles worked in kayaking.
Back Muscles
Muscles in the back play a central role in delivering a paddling motion.
When you paddle consistently during kayaking, you engage the Trapezius and Latissimus Dorsi muscles and reinforce their strength.
The Latissimus Dorsi muscles, also colloquially referred to as the Lats, are the firmest back muscles that allow you to swing your arms while paddling.
During each stroke, the muscle fibers contract and expand to produce the power needed to paddle.
The rhomboid muscles in the upper part of the back pull the shoulder blades back in the relaxation state post-stroke.
Behind the neck, the Trapezius muscle is present. This large muscle primarily engages the spine as you recline back to paddle forward.
The trapezius is also referred to as the 'upper traps' responsible for producing shrugging motion.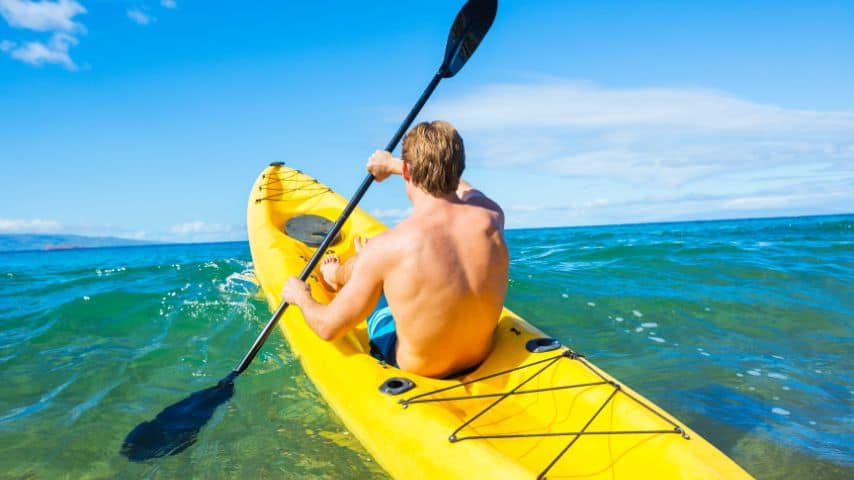 Shoulder Muscles
When you paddle, shoulder muscles are widely used in performing the swinging action.
These muscles work in close correspondence with the back and arm muscles to propel the kayak.
The shoulder muscles primarily comprise of the deltoid and the rotator cuff muscles.
The deltoid undergoes hypertrophy over time as it is consistently used in kayaking.
If you put too much intensity into paddling, you may experience pain in your deltoid later.
The rotator cuff muscles are typically a set of four tough muscles, including supraspinatus, infraspinatus, teres minor, and teres major, which connect the arms and shoulders.
If any of these muscles get injured during kayaking, you will experience sharp pain in that shoulder.
Forearm Arm and Hand Muscles
The triceps and biceps are antagonistic muscles meaning when one contracts, the other relaxes.
These muscles constantly contract and relax as you paddle while kayaking and hence toughen up over time.
The forearm muscles are crucial for ensuring a firm grip. As you hold the paddle, you engage your forearm and hand muscles.
As you push the paddle through the water, your muscles generate sufficient force and power and get worked up.
An extended period of kayaking can strengthen your forearm and hand muscles as they are consistently used.
These muscles will undergo hypertrophy and develop new muscle fibers. It is for this very reason that kayaking is considered a great workout activity.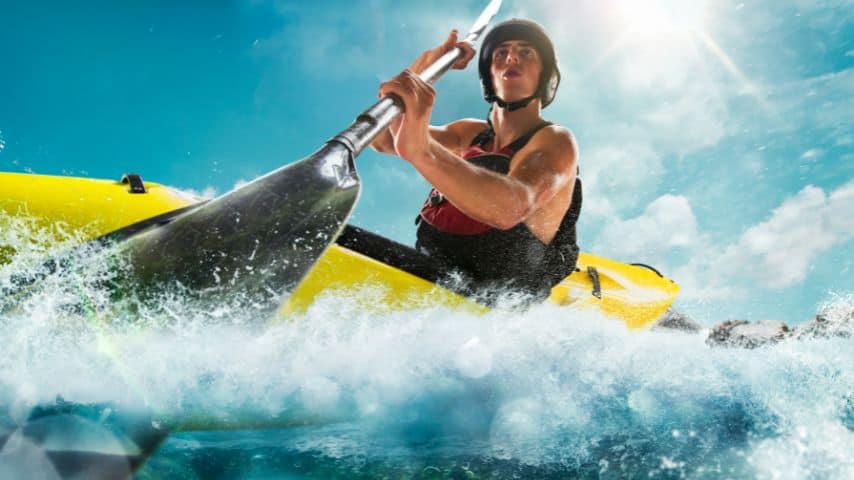 Chest Muscles
While the chest muscles are not directly involved in the paddling movement, they are significantly pulled as your shoulder and back muscles contract.
As your arm pulls on the paddle, your chest lurches forward and relaxes in sync.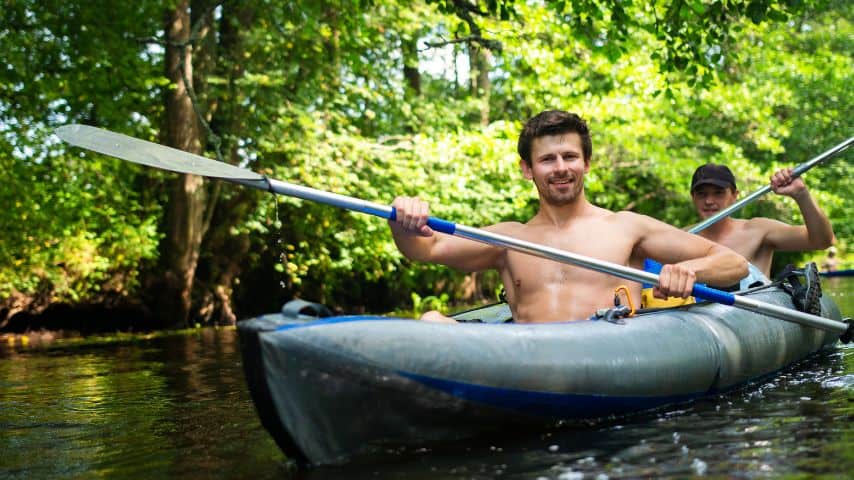 Leg and Core Muscles
While it may come as a surprise, your leg muscles also play a role in paddling.
In every stroke, your body needs to be in a balanced position, and your thigh and leg muscles accomplish that.
By being stiffened, they allow you to sit tightly in place and channel all the torque to your hands to swing the paddles with significant force.
Core muscles serve as a connection between upper and lower body muscles.
The abdominal muscles and obliques control torso rotation and permit side-to-side motion, allowing smooth force transfer from the legs to the upper body.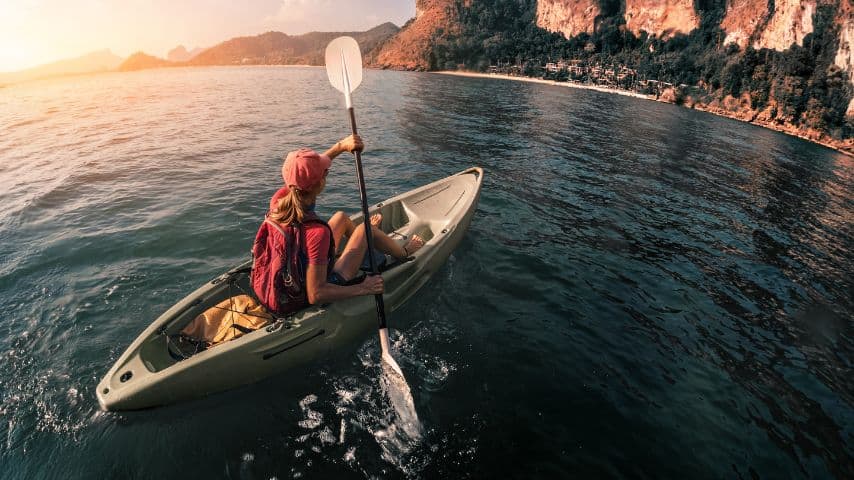 Heart
During kayaking, your heart rate rapidly increases as your heart pumps blood at a faster rate to meet the increased metabolic needs. Your body starts burning calories to produce energy.
Kayaking for long periods for many months improves cardiac function and prevents the risk of coronary heart disease.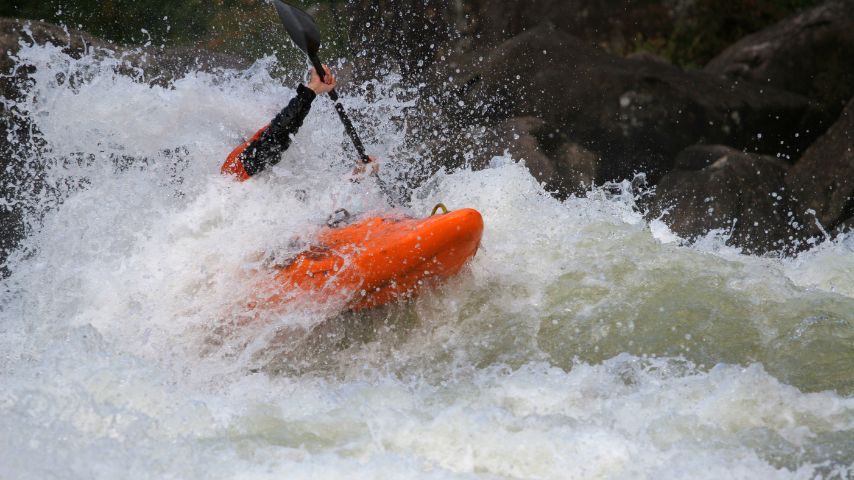 Frequently Asked Questions About Kayaking – What Muscles are worked
Does kayaking build chest muscles?
Along with arm, shoulder, and back muscles, kayaking also works chest muscles.
It causes them to hypertrophy over time and develop enhanced stiffness and strength.
How good of a workout is kayaking?
Kayaking involves the use of multiple body muscles, including shoulder, back, abdominal, arm, chest, and leg muscles, and hence serves as a fantastic workout.
It improves aerobic fitness and enhances strength and flexibility. Moreover, it improves cardiovascular fitness and muscle strength.
Does kayaking burn belly fat?
Since kayaking involves paddling and consistent arm and upper body movement, it contributes to losing belly fat over time.
You engage your core and oblique muscles during each stroke, which helps build core strength.
Is kayaking good for your back?
In kayaking, you actively engage your back muscles, especially the rhomboids, in making the swinging motion with your arms as you paddle.
The more back muscles get worked up over time, the more strength they develop.