Just because you are camping in a tent doesn't mean you give up all creature comforts. There are some inventive ways to light up the tent interior that do not involve lanterns and oil.
Consider some unique approaches to illuminating your tent when sleeping under the stars!
Want to learn more about safely hanging lights in your tent? Keep reading!
How to Hang Lights in a Camping Tent
Velcro tabs and magnets are easy and safe ways to suspend light sources inside a tent. These methods work well for string lights or lightweight LED lanterns and lamps. You should not hang combustible or live-flame light sources in a tent, like oil lamps or candles, as it is a fire hazard.
Tent Camping Light Sources
Today's camping enthusiast has a lot of options and choices when it comes to illuminating the inside — and outside —of their tent.
No longer are campers confined to messy oil lamps and lanterns, which can also present significant safety risks in a tent.
Consider the many different types of lights, as well as how you might secure and suspend them during your camping trip.
Talk to camping retailers — and other campers, too — to see what ideas and suggestions they have to offer.
Head Lamps and Neck Lights
Headlamps and neck lights are two more great camping options! These also allow you to keep your hands free for other tasks.
Headlights with LED bulbs are often seen in campsites, but neck lights — like those used by crafters and gamers — are an excellent way to go, too.
These last a long time and many feature special effects, like emergency lighting and flashers.
String Lights and Fairy Lights
Perhaps the most inventive way to light up your tent is with string or fairy lights. These lightweight and inexpensive lights are found widely, in a variety of styles and types.
For instance, you could use battery-powered LED string lights or fairy lights that charge off your USB port.
The added benefit is that the lightweight nature of this option makes it easy to hang and suspend throughout the tent and campsite without problems.
You can pack them up in a small space, too, which makes them practical for camping and travel.
LED and Lanterns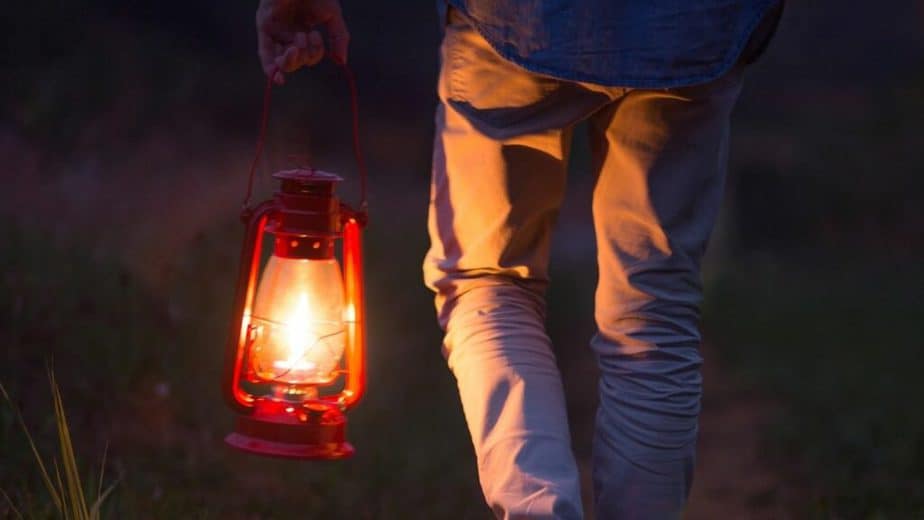 When it comes to camping lanterns, battery-operated LED might be your best choice. These are cool to the touch and safe to use — perfect for tents!
Also, these can be suspended using a zip-tie or adhesive-backed hooks, as they are lightweight and impact resistant.
Look for small, collapsible lanterns with LED bulbs for the longest life. These are easy to move and great for hiking, too.
Solar Powered Lamps
If you plan ahead, solar-powered lighting can be easy to use and perfect for camping. Plus, think of the batteries that you will save!
These will need to be charged daily with the sun, so plan accordingly. Make sure to have a backup light source just in case the weather doesn't cooperate and your lights fail to recharge.
Other Ideas to Light-Up your Tent
Be wary of using candles to light up the inside of a tent. These are much safer for use on an exterior picnic table, instead.
You may use the lights on your electronic devices, like the flashlight on your smartphone, to light up the inside of a tent.
Also, glow sticks are an inexpensive and fun way to illuminate your surroundings.
Frequently Asked Questions about How to Hang Lights in a Camping Tent
How can you hang string lights on trees?
Use Velcro straps to suspend string lights from branches of limbs on trees safely and securely. Make sure to remove the straps after and bring them when you are done camping.
How best can you hang and secure string lights?
Adhesive hooks are very useful in suspending string lights. Some prefer a staple gun, but you do run the risk of damaging the cords to your lights. Another idea is to use Velcro tabs which work well for lightweight fairy lights.
Is it safe to light up a tent?
It is safe to illuminate the tent so that you can see your surroundings- which may also help prevent a nasty fall or accident. The safety of the lights depends on the type that you use, with battery-operated options and cool LED being viable choices for tent camping.
What lights should you use when camping?
LED is the best kind of light to use for camping and many of the conventional lanterns use LED bulbs. These types of lights burn cooler and longer than other options.
What kind of lanterns are good for camping?
LED camping lanterns are a good choice. These types of lights eliminate the fire hazard of traditional lanterns that use fuel oil to illuminate.
How to attach lights in a tent?
Velcro and magnets are safe and easy ways to attach lights to the walls of a tent. These work fine for string lights, fairy lights, or to hang a LED lantern. These are not the way to attach lights with an open flame — like candles or oil lamps — which should not be used inside a tent at all, ideally.
Conclusion
Planning a camping trip?
Whether you prefer an oil lantern or LED string lights, use these tips to light up the interior of your tent conveniently and easily during your next outing!