If you go kayaking frequently, you may wonder if it's possible to fit your kayak inside your Sport Utility Vehicle (SUV).
Kayak inside SUV, does that really work?
It primarily depends upon the size of your SUV and whether or not a kayak can fit inside it.
However, transporting a kayak on the rooftop of your SUV is typically considered a more convenient alternative.
It may be possible to fit a kayak in an SUV. In some cases, the kayak may protrude from your trunk if it does not entirely fit inside.
In this guide, we will discuss the possible scenarios in which kayaks can fit inside SUVs and some critical factors to know for safe transportation of your craft.
Kayak Inside SUV – Will it fit?
To fit a full-sized ten-feet long kayak inside your SUV, you will need to fold several seats. You will also need to keep the rear door open; however, make sure to tether the kayak securely. For smaller kayaks or inflatable ones, you won't need to fold back any seats and can keep the rear door open, as they fit easily within the approximate 39 cubic feet of cargo room.
Various Sizes of Kayaks
Kayaks are available in a wide range of sizes. Typically, kayaks measuring 10 feet long are most commonly used. They also come in sizes ranging from 6 to 16 feet in length.
When selecting a kayak, it is crucial to choose one according to the length of your legs. Measure the length of your legs from your pelvic bone to your toes.
You need a kayak with sufficient leg space where you can properly stretch your legs.
Besides, a kayak with an elongated bottom typically sails faster in water. Hence, if you are planning to kayak in rapid water, it is recommended to use a shorter kayak so that it's easier to maneuver.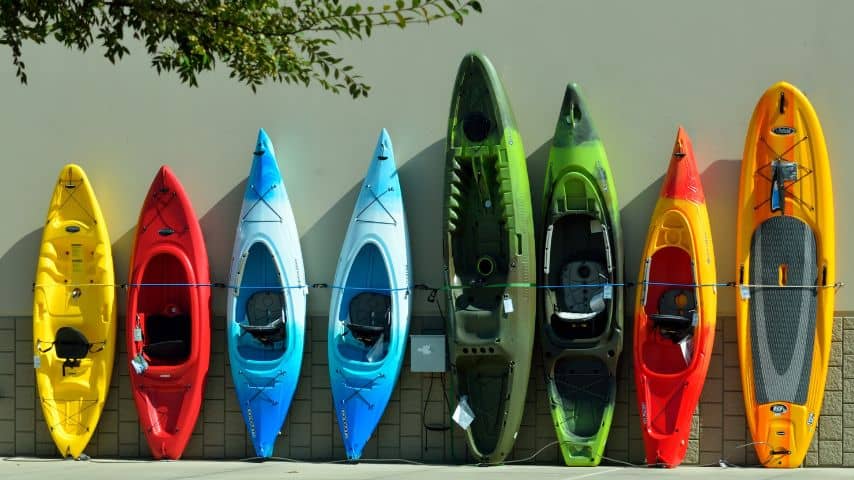 Choosing the Right Kayak for Your SUV
Many people use their personal vehicles to transport their kayaks.
Even though it is more convenient to place your kayak on the rooftop of your SUV, a safer alternative is to fit it inside.
You can fold or remove seats in most SUVs to increase cargo capacity.
In doing so, you create ample space within which an average-sized kayak can be easily placed.
However, a ten feet long kayak may still stick out from the hang and would have to be tethered.
For your kayak to fit snuggly inside your SUV, it is crucial for you to pick the right kayak.
Below, we will discuss the types of kayaks best suited for SUV transport.
If you are starting kayaking for the first time, these options will be great for you if you wish to carry your kayak in the back of your SUV.
Short Kayak
If you are a person who enjoys kayaking in the rapids, then a short kayak will be your best choice.
Short kayaks are ideal for kayaking in rivers with rapid water flow, as they are easy to control and steer.
Moreover, a short kayak will fit easily inside your SUV without protruding through the back door.
Short kayaks are typically six feet in length. You might need to fold a few seats, but it will fit the interior capacity perfectly.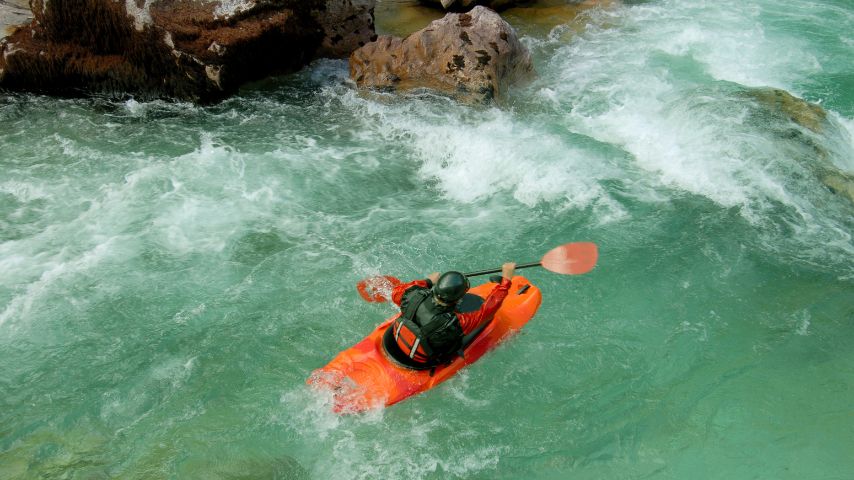 Inflatable Kayak
Inflatable kayaks are the best alternative for people who do not have much space in their SUVs.
These kayaks can be deflated and easily carried within an SUV without folding any seats.
You can pack the deflated kayak in a box and keep it in the trunk along with the rest of the kayak gear.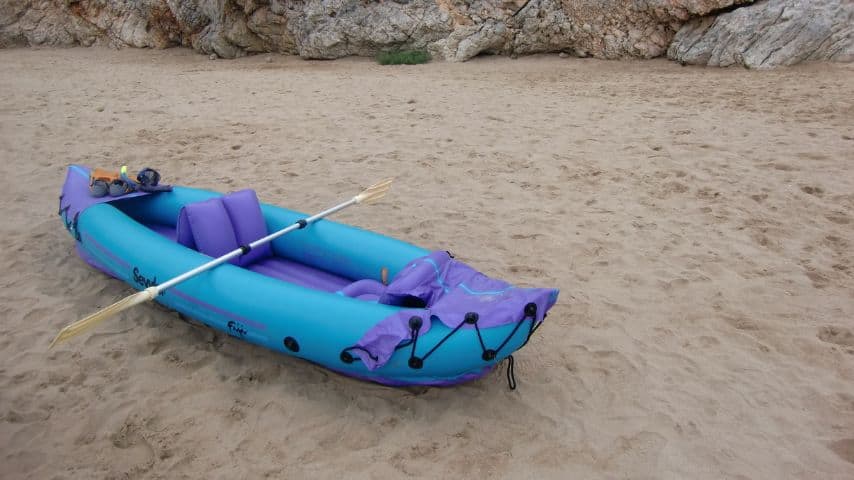 Foldable Kayak
Foldable kayaks are less common but are a great option if you are looking for a space-efficient kayak. These kayaks will easily fold and fit inside the trunk of an SVU.
You will not have to be worried about folding any seats or leaving the back door of your SVU open. This way, you can bring more friends and family to kayaking.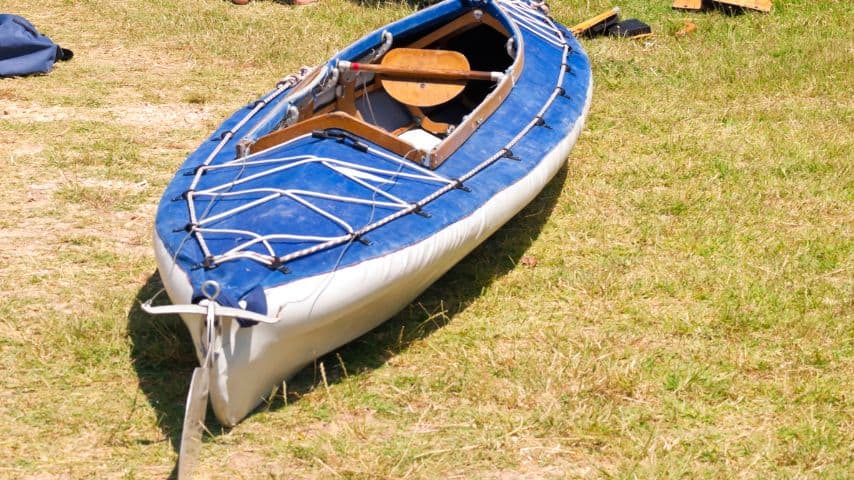 Tips for Fitting Kayak inside SUV
Once you've chosen the right kayak for yourself, it's time to secure it tightly in your SUV.
Remember that incorrectly fitting it inside can potentially damage the kayak. Hence you will need to be careful.
The first step is locating the metal D-hooks in your SUV, as these will serve as anchor points for attaching straps.
Next, find the anchor points on your kayak. Fold the seats to create space for the kayak.
Make use of multiple cam straps to secure the kayak at the back of the SUV.
You can also use ratchet straps for tightly securing kayaks in place.
If your kayak is too big such that you can't shut the rear door, it is crucial to secure the door in place.
Use ratchet straps to tether the back door, so it doesn't move while driving.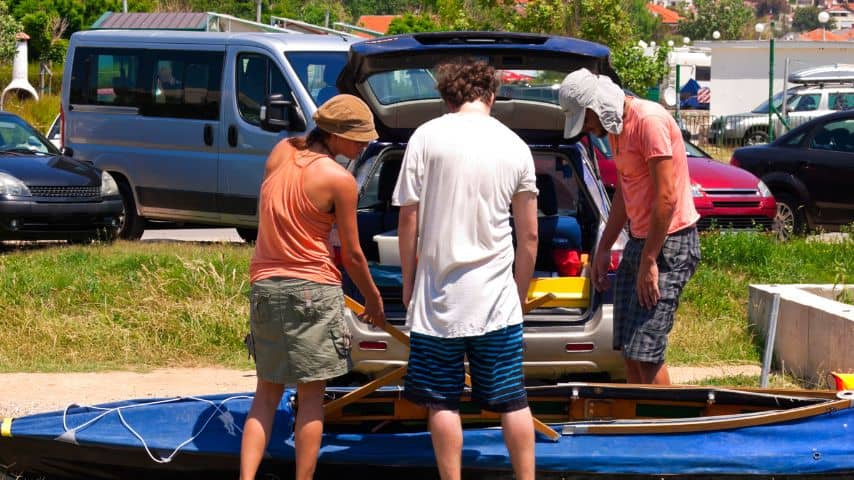 Frequently Asked Questions About Kayak Inside SUV
Can a kayak fit inside a car?
Transporting a kayak inside a car can be difficult, especially if you own a medium-sized vehicle.
A better alternative is to get a rack and secure the kayak to the roof of your car.
Will a 10-foot kayak fit inside a minivan?
A minivan typically measures 149 cubic feet in length and is too small to accommodate a ten-feet long kayak.
However, if you fold down a few seats, you may be able to create enough room to fit a nine-feet long kayak.
Can you secure a kayak on roof rack?
You can secure a kayak on a roof rack by means of ratchet straps.
Make sure to wrap the strap around the rack tightly so that the kayak is secured tightly in place and doesn't move much while the vehicle is in motion.
Take the end of the strap and tie a tight knot against the rest.
Can a kayak fit in a truck bed?
Most kayaks will not fit in a truck bed unless the bed measures 8 feet in length and you are trying to fit a short kayak of 6 feet.
Full-sized kayaks cannot fit within a truck bed.