Storing a Kayak in an Apartment is a challenge. Storing a kayak, in general, can be tricky if you live in a small apartment. However, rest assured, there are several ways to store a kayak without spending tons of money on expensive storage units.
True, kayaks are pretty large, yet there are smart ways on how to store them.
This guide will first discuss important reasons for storing kayaks properly and then cover the best tips for storing kayaks in apartments. Let's get right into it.
Storing a Kayak in an Apartment – 10 Best Tips for How to Do it
While storing kayaks in your apartment, you must remember a few things. These include cleaning and drying the kayak properly before storing and storing it in a place away from sunlight exposure and moisture. Moreover, the kayak should be secured appropriately in place in a way that it does not get easily bent or deformed. Also, make sure to wrap your kayak in a protective covering.
10 Tips for Storing a Kayak in an Apartment
1. Store in a Shaded Space
Kayaks are expensive investments, and you do not want them to deteriorate over a short period.
They require proper storage, which is adequately sheltered, and, more importantly, away from sunlight and moisture.
Constant direct exposure to sunlight can cause the hull material to degrade in some time quickly.
Similarly, moisture will damage its frame. Hence, storing it in a cool and dry place is crucial.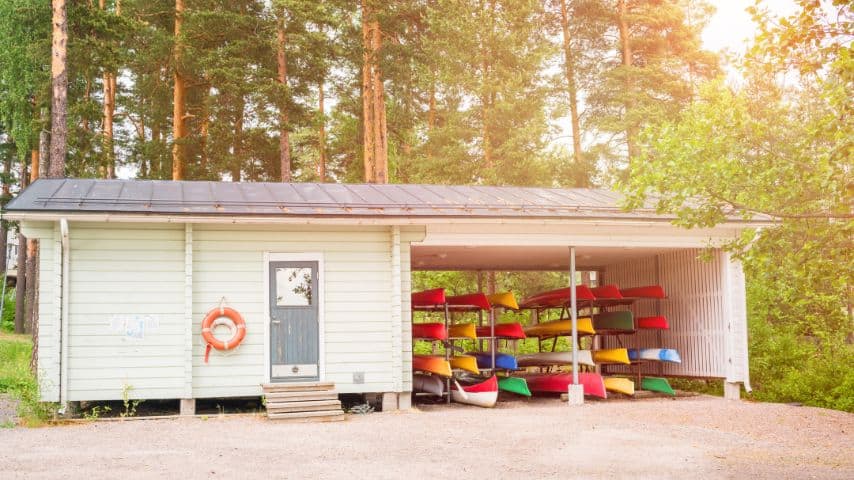 2. Get a Suspension System
It is advised not to store your kayak on the ground, as it exposes it to the potential threat of moisture.
Therefore, it is essential to keep it at an elevated level, possibly in the form of a rack.
A rack would be an excellent investment. A sturdy rack will keep your kayak off the ground and ensure it is safely seated.
You can either get one from the store or build one yourself.
Ensure that the kayak is seated on the rack so that its bottom does not rub against the rack's surface and that the rack holds it from both ends, upside down.
At the same time, also make sure not to hang the kayak by its grab hooks, as it can cause the body to get deformed.
Instead, use the side straps to support the kayak's body. It is crucial to ensure that the kayak is positioned, so its weight is evenly distributed, otherwise, it will bend and get damaged.
A different and more feasible alternative is to hang the kayak from the ceiling.
It will save you more floor space and protect the kayak from unwanted obstructions.
3. Ensure Kayak is cleaned before Storing It
Before bringing your kayak indoors, make sure to scrub it beforehand properly.
Rinse it with fresh water and clean its interiors properly so that any dirt, sand, or salt is removed.
Before bringing it to your apartment, ensure that it's completely dry and that there is no residual moisture.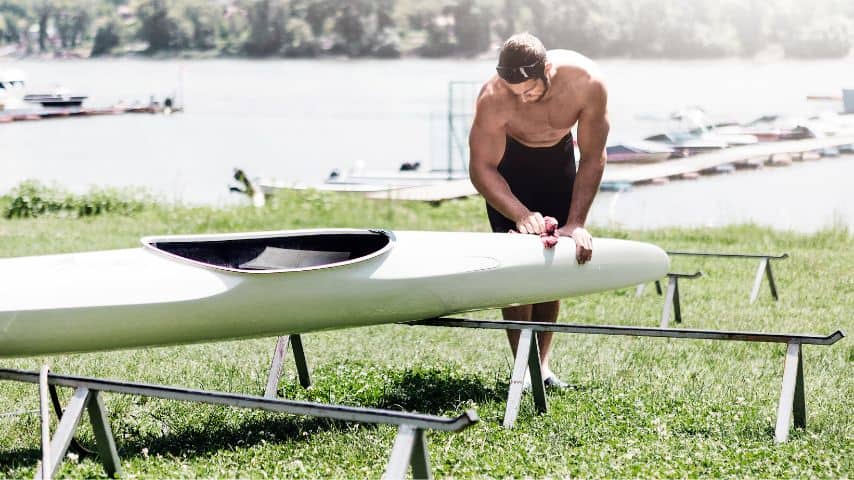 4. Cover Kayak with Waterproof Material
Cover your kayak with waterproof material (like nylon) to prevent any contact with water.
If you have leaky ceilings, it is imperative that the kayak is sealed correctly so that the rain does not seep through.
5. Secure Kayak in Place with Bungee Cords
Your kayak should be properly secured in place with bungee cords or rope so that it does not crash to the ground. You can tie it to any adjacent wall or railing.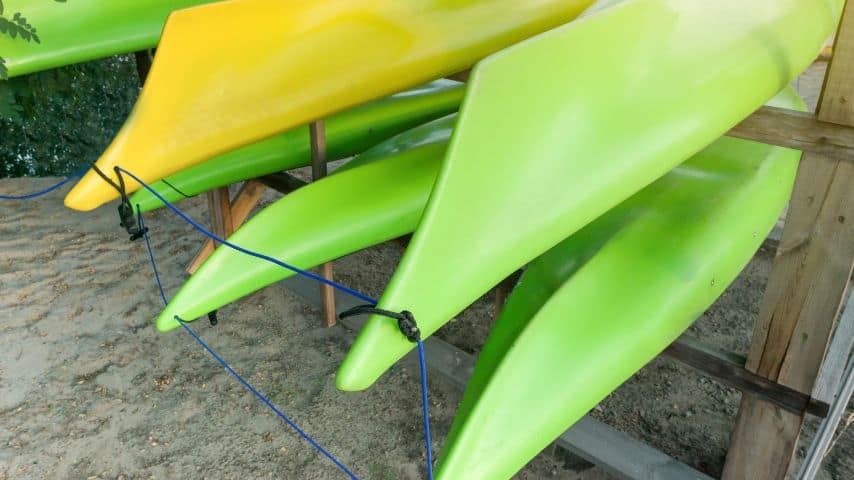 6. Use Tarp as Additional Covering
It never harms to be extra careful. In addition to waterproof material, cover your kayak with a tarp to ensure it is protected from moisture and dirt.
7. Keep Away from Sharp Objects
Make sure that the kayak is stored in a place with no sharp objects, including kitchen utensils (like knives) or construction tools, as they can damage it.
8. Store Kayak on its Sides
It is best to store the kayak on its sides to prevent the body from bending and getting any scratches.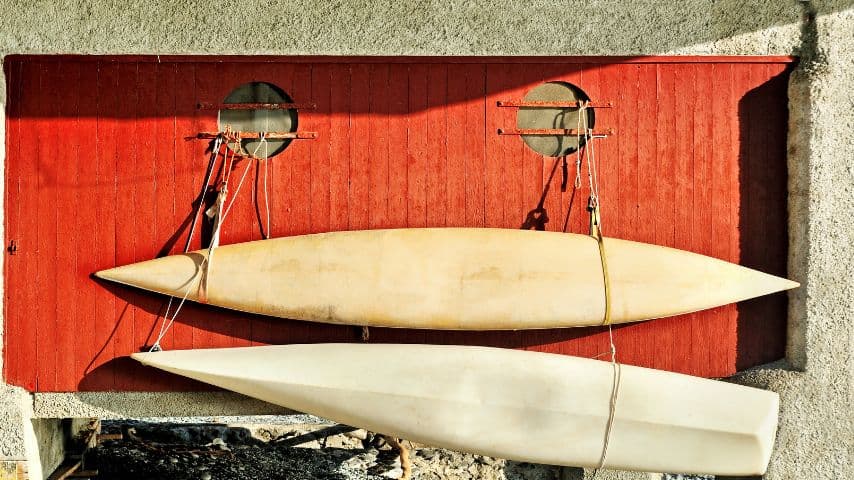 9. Build a PVC Kayak Rack
If your apartment does not have much floor space, then a great alternative is to store your kayak on the wall.
To do this, you will need to purchase a PVC pipe, joints, and mounting clamps.
Use these instruments to build a rectangular frame and screw it into the wall.
You can then secure your kayak against the wall upright in the PVC rack.
To further secure it in place, get a ratchet strap and tie it around the kayak and PVC rack.
10. Use an Inflatable Kayak
When it comes to storing kayaks indoors, the best cost-effective and space-efficient option is to get an inflatable kayak from the get-go.
Since inflatable kayaks are made from a combination of PVC and Drop Stitch material, they are even more durable than the conventional ones.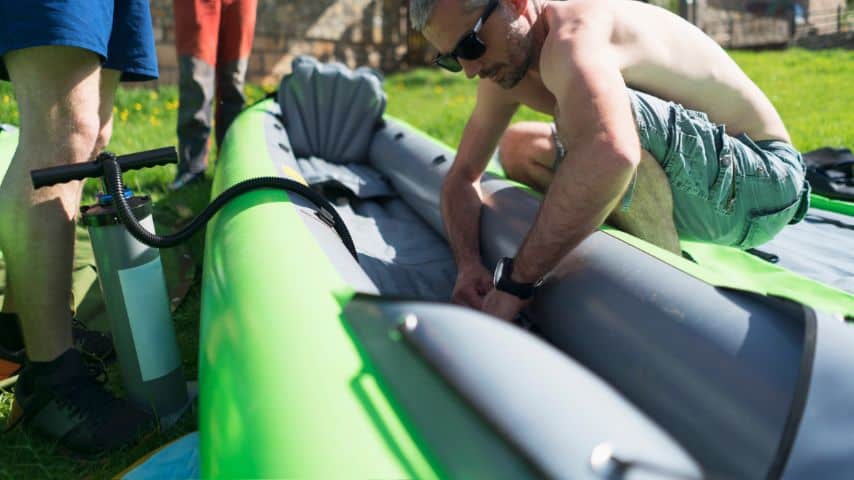 Indoors or Outdoors – Where to Store your Kayak?
Indoor storage is a safer option for storing kayaks for an extended period.
It is primarily because an indoor storage solution protects your kayak from environmental elements, including rain, snow, and moisture.
If you have proper space and wall-mounted racks in your apartment, then a more sensible choice is to keep your kayaks indoors.
However, if you have limited space and indoor storage is not an option, storing your kayak outdoors is the last resort.
Make sure to store outdoors only in the offseason, and ensure that your kayak is adequately covered with waterproof material.
Keep the kayak strictly away from intense sun exposure.
Frequently Asked Questions About 10 Tips for Storing Kayak in Apartment
How to store kayak paddles?
Kayak paddles are stored in the exact way kayaks are stored. It is ideal to build a separate rack for the paddles and store them in a place away from sunlight and moisture.
Is it okay to store kayaks vertically?
Kayaks can be stored vertically, resting against a wall. It should be secured properly in the wall, with the bow facing up and stern touching the ground.