A yurt is a portable tent that is round according to National Geographic.
Yurt camping refers to camping in a tent-like, semi-permanent structure called a yurt.
Yurts have rounded, dome-shaped tops and usually consist of wooden platforms and frames, and canvas.
Camping in yurts provides many of the same comforts as cabins, except in more temporary structures.
At the same time, yurts provide several more conveniences when compared with camping in tents.
For example, it is rarely necessary to pack as much as for tent camping, and setting up in a yurt is far easier than setting up and occupying a tent.
What to Bring for Yurt Camping?
Here is a general overview of what to bring when yurt camping:
zbedding
clothing
cooking equipment, cooking and eating utensils
furniture
lighting equipment (torches, lanterns)
toiletries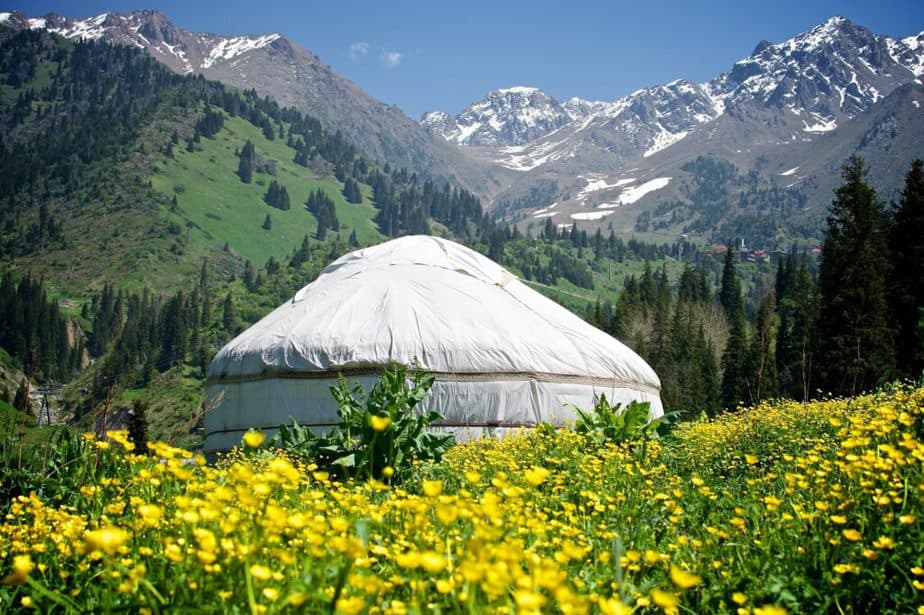 What to Bring for Yurt Camping
I expand on this and give detailed lists further in the article.
Some yurts come already 'fully loaded'. They'll have a kitchen, tables and chairs, cleaning equipment, and trash cans. It is good to contact the campground or host to know what is or is not required.
Yurt Camping: What's on Offer?
Yurt camping can be lots of fun. Although yurt camping offers many luxuries, it is not as simple as using a hotel.
Bathrooms: While luxury yurts will offer indoor bathrooms, yurts more commonly have only outdoor bathroom facilities.
Insects and local wildlife: critters and bugs may be constant visitors in a yurt, welcome or not. Located in woods or other remote areas, yurts do not offer any special protection against critters.
Bedding: it would be unusual for a yurt not to have bedding or cots of any kind. Luxury yurts may even provide full bedding, but less high-end yurts require self-provisioning of sleeping equipment. I normally take pillows, blankets, and sleeping bags.
Heating: cold climate yurts often have a wood- or gas-burning stove for providing warmth. No matter what kind of fuel a stove burns, a lighter is essential for firing it up. Woodstoves also require kindling too. It gets chilly in the yurt while its stove gets going, and even once started, I've found that stoves often need to be fed a couple of times a night to keep the yurt nicely warmed.
Woodstoves: burn either coal or wood. For me, coal is a better choice, as coal-burning stoves burn hotter, more steadily, and longer than wood. I always ask so I know exactly what kind of fuel the stove in my yurt can take, because not all woodstoves handle coal.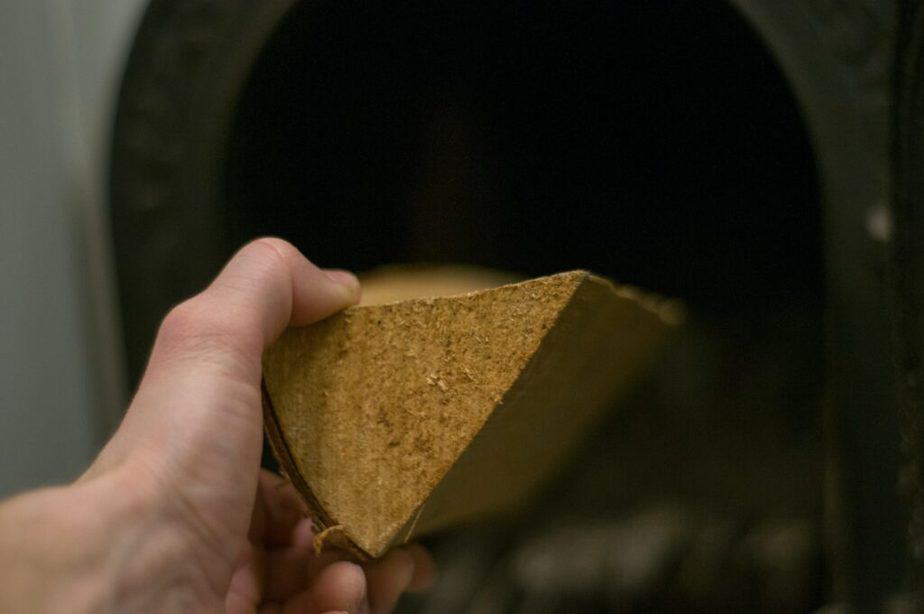 Important: if a yurt does not have its own stove and I must bring mine along, I never forget to ensure that it is graded for use indoors. If it is not, I either don't use it indoors at all, or I keep the yurt highly ventilated (which, in cold weather, kind of defeats the purpose of the stove).
Electricity: does the yurt have electricity? Yurts may or may not have electricity. There's no hard-and-fast rule. Knowing this, I am prepared to supply my own lighting with lanterns and torches.
If there's no electricity, I pack a sufficiently powerful power bank. Some power banks can deliver over 90 hours of charging.
Just one thing–I always ensure I have fully charged my power bank before embarking on a trip. Nothing is worse than arriving at the yurt to find the power bank has only a few hours of charge left.
Tip: I put my phone into airplane mode to conserve battery power.
Kitchen: some yurts have a small kitchen for preparing food, but this is not assured. Likewise, some yurts don't have stoves, so I take along my two-burner stove, which suffices for cooking.
The manufacturer of my Coleman stove recommends using it only outdoors. Still, sometimes that is a big ask given the weather, so I use the stove indoors–but I absolutely ensure that the yurt is very well ventilated.
If in doubt, follow the stove manufacturer's advice to the letter.
Lighting: the best lanterns to use in a yurt are battery-powered ones. Although candles can be an option, they are also a dangerous fire hazard. Many operators do not allow any open flames inside their yurts.
There are several highly affordable lanterns that are small but provide surprisingly powerful light.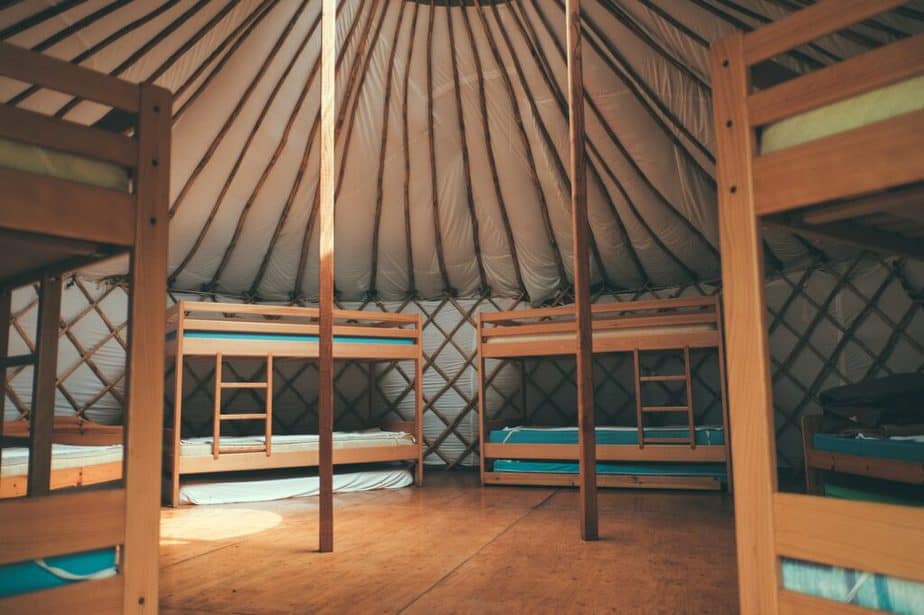 Yurt Camping What to Bring–List
Sleeping bags that are rated for 15°F (-9°C) or colder.
Extra socks and additional base layers.
Backpacking pillow. Inflatable ones take up less packing space.
A combination of torches, headlamps, and lanterns
Firestarter, kindling, or newspapers and firestarter, if necessary (check first)
Down-filled booties for use inside the yurt.
First aid box.
Toiletries.
On a ski trip
Large-sized backpacking packs.
Daypacks. Each ski trip daypack goes inside a large-sized backpacking pack around which I stuff sleeping bags, food, and extra clothes.
Skis equipped with backcountry ski bindings.
Extensible ski poles.
Walk-mode-equipped backcountry skiing boots.
Avalanche beacon.
Climbing skins.
Probe pole.
These lists above are not exhaustive, but they set up readers for success, even with what is there. Consult other, more experienced yurt campers, or discuss requirements with the yurt's owners.
Frequently Asked Questions About What to Bring for Yurt Camping
What sort of meals should I bring with me to the yurt?
Dehydrated meals are light, portable, and easy to prepare. Dried fruits with instant oatmeal is a great option for breakfast. For lunch and the occasional snack, I pack sausage, cheese, and some energy bars. I favor easy dinners which require only the addition of hot water, dinners like rice, pasta, or backpacking meals.
For me, desserts must also be easy, so I prefer to make desserts that require only milk, such as instant cheesecake or chocolate pudding.
Tip: bring dehydrated milk powder to save packing space.
How much water will I need for yurt camping?
I don't bring that much water to the yurt as I can melt snow on the stove. I usually concern myself with packing enough for the journey to and from the yurt, along with a little extra, just in case.
What battery-operated lanterns do I recommend for yurt camping?
I recommend Vont (don't worry, I don't earn anything by making this recommendation). Vont lanterns are small, powerful, and relatively inexpensive.
Afterword
Camping in a yurt can be easier and just as much fun as camping in a tent. If campers are sensible and systematic in the choices made about what to bring along on the trip, the experience should be frictionless and delightful. I hope this article has helped in that regard.