Keeping the dog warm when camping is a priority task for anyone who loves their pet.
This is especially true during the winter and fall months, but if you are camping or live where the nights are cold, it will be important to keep your pet warm, whether it's spring or summer.
Keeping your dog warm is not as simple as it might sound, but it is possible with the proper mindset and equipment.
How to Keep a Dog Warm While Camping?
Keep the dog away from/out of water
Have a sleeping bag for the dog
Have blankets for the dog
Give the dog extra food
Keep the tent insulated properly
Create a dedicated space for the dog
Always check the dog's health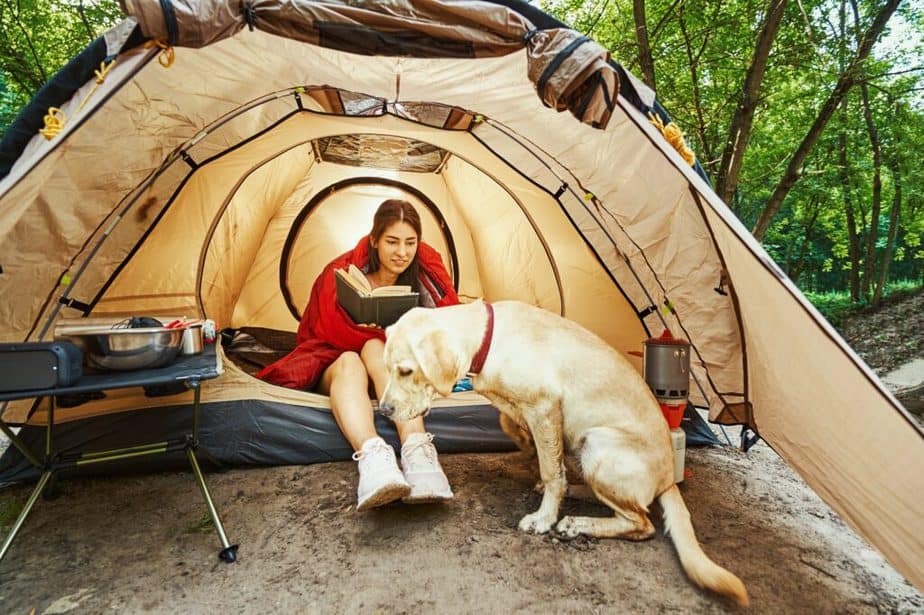 7 Tips On How To Keep A Dog Warm While Camping
Important: I did some research and read up on how my dog's breed handles the cold. This helped me to keep my pet cozy and warm when we went camping.
1. Keep the dog away from/out of water
Keep dogs dry when camping. This is the main step to keeping them warm. When it rains outside, keep dogs inside.
Try to stop the dog from jumping into any bodies of water (not always possible, I agree.) If the dog gets wet in chilly weather, remove any clothing and towel it dry. Get the dog back near a fire as soon as possible.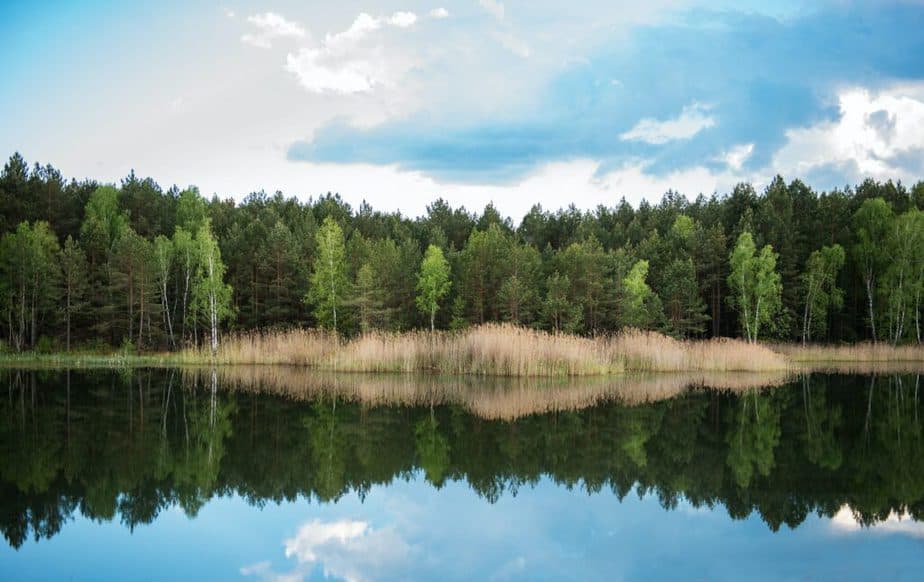 2. Have a sleeping bag for the dog
Instead of sharing the same sleeping bag, the dog can get its own (see the FAQs section below). This gives humans and animals sufficient space each.
Personally, this is my preferred solution as it means I can stretch out any way I want without worrying about crushing my poor pet. I'm pretty confident my dog is happier with having his own space too.
It is important to choose a lightweight, portable bag that can be easily carried and rolled up to fit into camping gear. Dogs' sleeping bags should tolerate most weather conditions and dry quickly if exposed to dampness.
3. Have a blanket for the dog
Apart from their own sleeping bag, blankets are a good option for dogs as blankets can be used for warmth and for pets to snuggle up to.
Tip: to keep my dog comfortable and relaxed, I bring his favorite blanket on our trips.
Blankets can be used as a dog's "owned space" in a tent. If a dog is provided with a favorite toy in this space also, the space becomes a home-away-from-home. Beware, however, that toys have a nasty habit of going missing on these camping trips, as I found to my cost before wising up.
Tip: blankets should be warm but not too thick or too heavy because that's a lot of extra weight to have to lug around.
4. Give the dog extra food
When camping in colder temperatures, it's a good idea to feed dogs extra food. Those extra calories help dogs keep up their energy since they will be more active and expend more energy keeping up with their human companions when the family goes exploring.
Pet websites state that dogs may require as many as three times their regular calorific intake in cold weather when active. When giving my dog extra food, I make certain that I feed him only healthy foods. Sharing a tent with a pet with a bad tummy is not fun!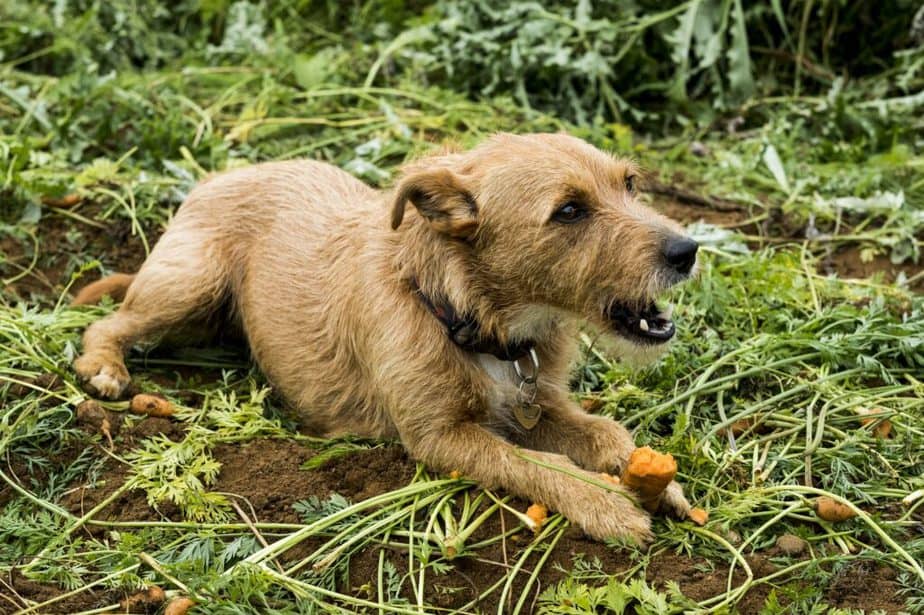 5. Keep the tent insulated properly
If it isn't correctly insulated, the tent will be uncomfortable for all occupants, human and canine alike. To have a well-insulated tent:
1. Choose an appropriate camping spot
The location makes a big difference in how warm and well-insulated a tent is, especially in winter. The better shielded the tent is from the elements, the warmer the tent will be.
2. Choose a smaller size tent
Smaller tents retain heat better and can be more heavily insulated with less insulation than larger tents.
3. Insulate against the ground
Get a restful night's sleep by using insulation materials such as blankets, rugs, or an air mattress. Air mattresses make the best choice because they keep the body insulated from the chilly ground and off the frozen earth.
4. Use thermal shielding
Use waterproof materials or reflective foils for covering the tent. Reflective foils reflect heat back inside the tent instead of letting it escape.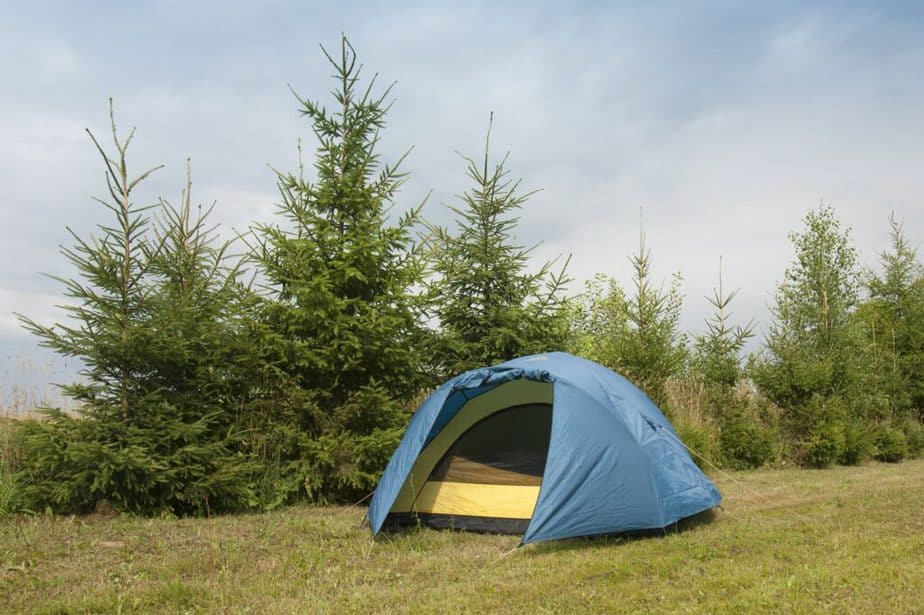 6. Create a dedicated space for the dog
Create somewhere comfortable for the dog to relax or sleep inside the tent. While living in the tent, this will be the dog's space. To prevent heat loss, the dedicated space must be warm and not touch the ground. (This is where a blanket will come in handy.)
It doesn't matter where this space is. Either outside or in the tent will be fine. What matters is that the dog's happy and warm when in the space.
Tip: provide a comfy area for the dog, similar to the one at home. The dog can enjoy its toys, blankets, and its bed.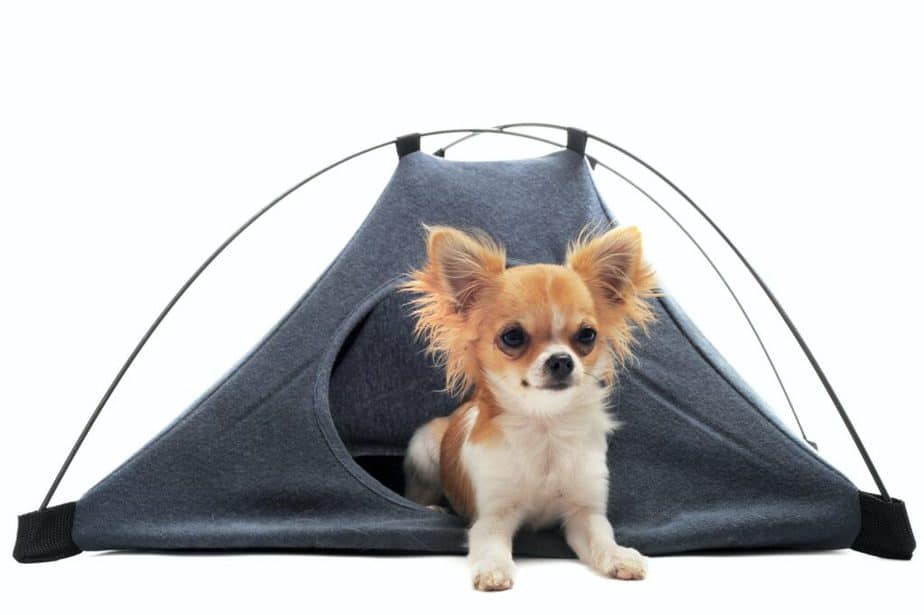 7. Always check the dog's health
It is important to check the dog regularly. It could be vital to know how it feels, what its blood pressure is, or if its paws and ears are cold or warm, and so on. This step could make a difference between a trip being cut short by the dog falling ill or an unforgettable, safe, and fun trip.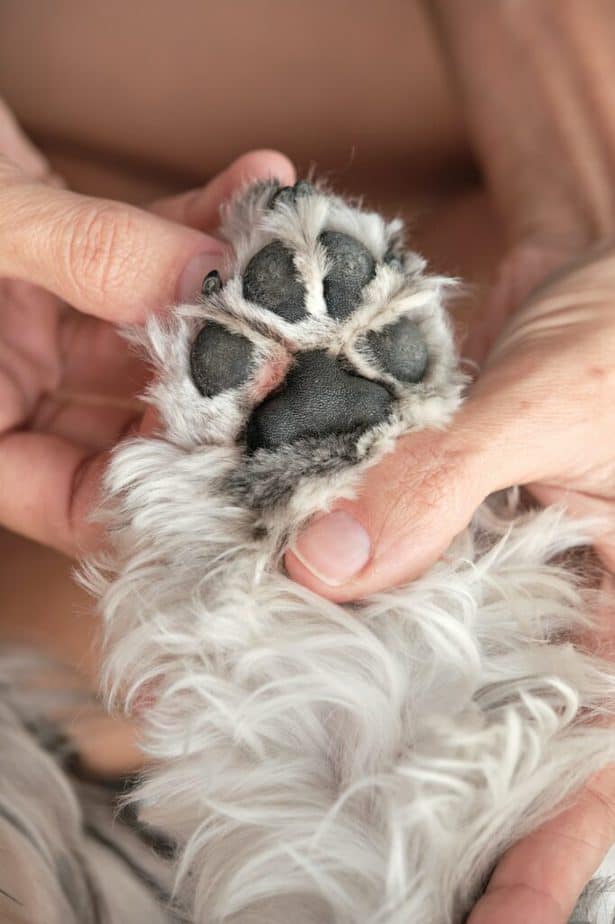 Find a list of pet-friendly camping grounds in the US via BringFido.
Frequently Asked Questions About Keeping a Dog Warm When Camping
Where can I find good sleeping bags or mats for my dog?
Amazon has a massive range of products that anyone can find by searching for a "dog camping sleeping bag". For mats, use the search term "dog camping sleeping mat". In all cases, favor waterproof products for your dog's comfort and health.
Can I always take my dog camping?
Some campsites may forbid the presence of dogs, so I always check that campsites I intend to visit accept dogs. Also, dog-friendly campsites may restrict the number, breed, or size of dogs they allow, so I always ask about this too. Overseas, I know that in the UK, for example, many campsites won't allow breeds that are listed under their Dangerous Dogs Act.
Conclusion About How To Keep A Dog Warm While Camping
I find it a lot of fun having my dog with me on camping trips, but I always keep in mind that he has different needs. I maintain his comfort and health by keeping him warm and–as much as possible–dry when camping.
This reduces the likelihood that he develops health problems such as canine arthritis as he grows older.