How to Store Kayaks in a Garage. Proper kayak storage is essential. Many kayak owners do not arrange kayak storage beforehand.
When it comes to storing a kayak, indoor storage solutions are the most ideal as they offer protection from environmental elements such as rain, snow, and the sun.
Garages offer adequate space for kayak storage and can be used to store kayaks in many different ways.
This article outlines the multiple ways in which kayaks can be stored in the garage.
How to Store Kayaks in a Garage?
Oversized garages with ample floor space are ideal for storing kayaks by means of portable stands. Those with wall space can store kayaks on wall-mounted racks or wall hooks, while tall garages can be installed with overhead suspension systems to store kayaks.
6 Best Ways of Storing Kayaks in a Garage
If you're thinking of storing your kayak in a garage, you'll be surprised there are various methods to do so.
Let's discuss each one in turn.
1. Ceiling Rack
Most people have limited floor space in their garage, and storing a kayak can cause the garage to appear cluttered.
A great solution is to keep your kayak on a ceiling rack.
You can easily get a ceiling rack from the market. These racks are typically able to support a total of 150 pounds.
They also come with padded arms that support the kayak's ends and prevent any scratches or external damage.
2. Wall-Mounted Rack
Another space-efficient alternative for storing kayaks is wall-mounted racks.
These racks usually have foam padding, which provides a smooth base for the kayak, and protects it from any external damage.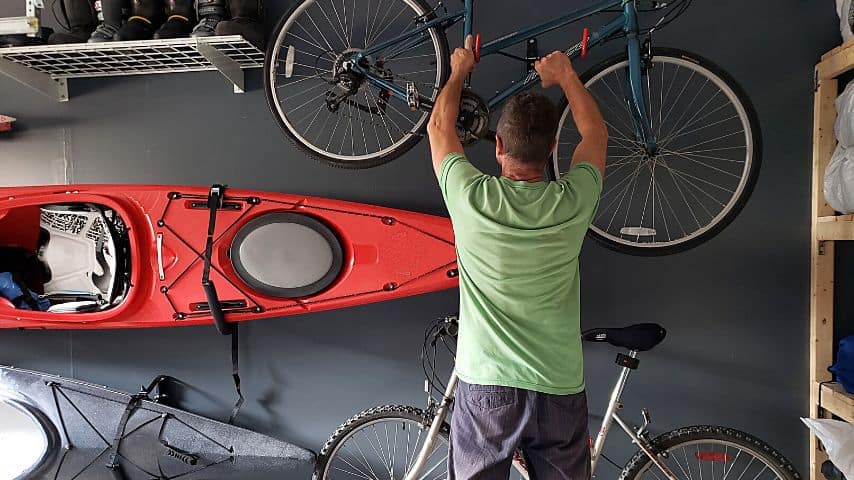 You can use the safety straps to secure the kayak and its gear tightly in place and prevent it from crashing to the floor.
Wall-mounted racks come in various sizes. Hence, you can buy one based on your kayak's size.
3. Overhead Suspension System
People often have limited space in their garage, so storing a kayak creates an additional hassle.
An overhead suspension system is an excellent way to store a kayak in a small-sized garage.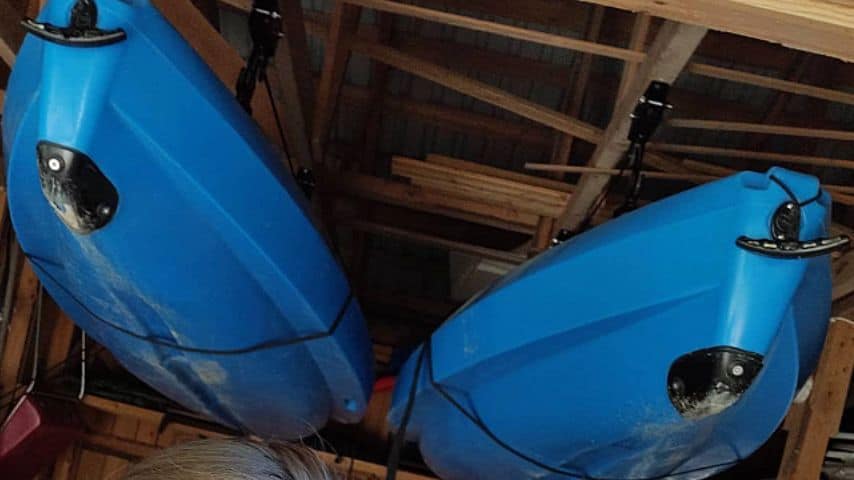 You can get the overhead suspension system and its requisite parts from the store. There are proper directions on how to install them, and following them accurately will ensure that your suspension system is safely secured.
While overhead suspension systems are an excellent means for storing kayaks, their only drawback is that they require too much energy and time to install.
You also have to be sure that the suspension system is perfectly secured before you hoist your kayak.
4. Portable Stands
Portable stands are one of the convenient ways of storing kayaks in a garage. They take up more space than the other options, but they are very easy to set up at any spot in your garage.
In contrast to wall-mounted or ceiling-mounted racks, portable racks occupy much floor space depending upon the size of your kayak.
Make sure to measure the dimensions of your kayak to purchase an appropriate stand according to its size.
The ideal thing about these stands is that they can be easily relocated around the garage anytime you want to move a few things. No drilling of holes is needed on your garage walls, too.
5. Wall Hooks
Similar to wall-mounted racks, wall hooks allow you to save floor space by storing kayaks on the walls instead. You can easily get a pair of wall hooks from any hardware store.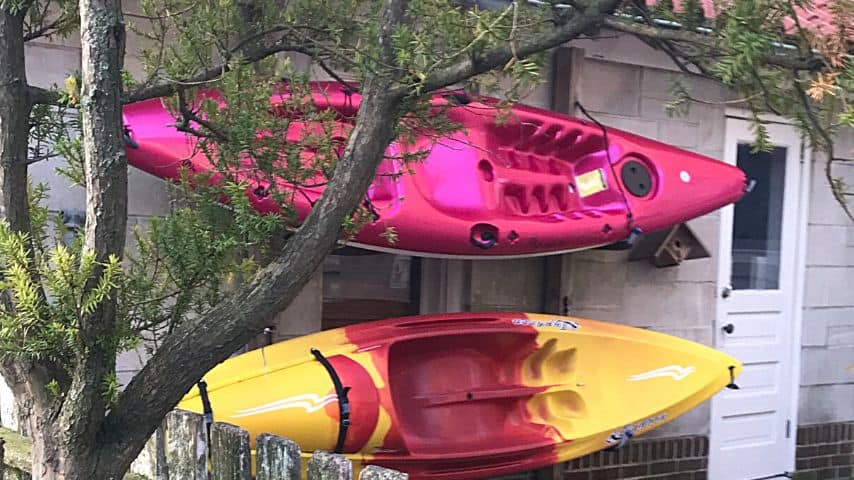 Typically, one pair of wall hooks can support up to 50 pounds and can hold kayaks less than 1 foot (13 inches) in width.
6. Strap System
Instead of installing racks, you can use the strap system as your wall-mounted solution.
The strap system involves the installation of mounting hardware in the wall and relies on the use of straps to secure the kayaks in place.
The straps will be wrapped tightly around the kayak to prevent falling.
Compared to wall-mounted racks, strap systems take up less space when the kayaks are taken. This means it won't look cluttered once you've removed your kayaks from the garage.
Moreover, some strap systems are sturdy enough to hold two kayaks and just one.
While taking the kayak off, it is recommended to be careful as you unhook and loosen the straps.
The Best Kayak Storage Solution for You
When it comes to choosing the storage solution that is best for you, there are some factors to keep in mind.
Firstly, it depends upon the size of your garage.
Portable stands are excellent for those with a large garage with ample floor space.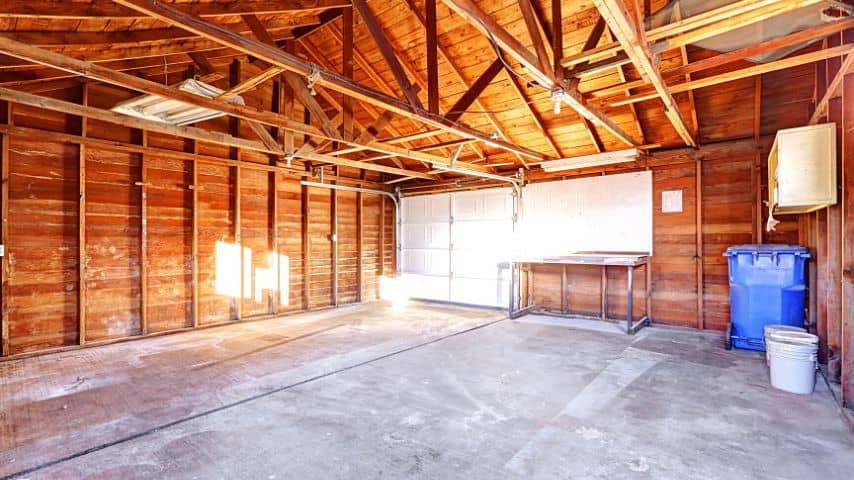 In garages with abundant wall space, it is best to opt for storage solutions like wall-mounted racks, wall hooks, or strap systems.
Wall-mounted storage solutions are also best for garages that are limited in floor space.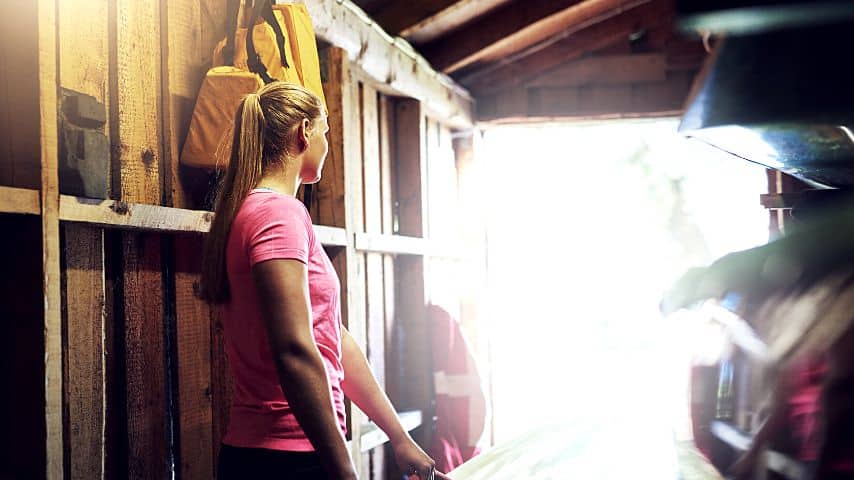 In some tall garages, there is additional unused space between the roof of vehicles and the garage's ceiling. An overhead suspension system for storing kayaks can be easily installed in such garages.
Strap systems are also ideal for people who do not want permanent racks to be installed in their garage. These strap systems are more space-efficient and can be used to store multiple kayaks.
Frequently Asked Questions about Storing Kayaks in a Garage
Is there a way for me to suspend my kayak in my garage?
You can suspend kayaks in your garage in two ways. You can screw wall hangers to the support beams in your garage and hang your kayaks upside down. Alternatively, if your garage does not have enough room for wall hangers, you can directly suspend kayaks from the ceiling.
Can I store my kayak vertically?
It is recommended to store your kayak vertically by resting it against the wall, with its cockpit facing outwards. You should ensure that its stern rests against the ground and the bow faces the ceiling.
Can I store the kayak outside?
Ideally, storing kayaks indoors offers the best form of protection. However, storing your kayak outdoors is also possible. Just ensure it is adequately covered and well protected from sun and moisture.